You know that feeling when you discover a new way of doing something and it makes soooo much sense you wonder, "Why haven't I been doing it this way all along?" (For instance, a couple of my recent life-changing wellness-promoting discoveries are bedroom lamp timers on dark winter mornings and pasties. But I digress!)
What is Lifestyle Medicine?
Lifestyle Medicine is a common sense, evidence-based, game-changing paradigm shift that the U.S. health care system is slowly integrating into the practice of conventional medicine. It's a holistic way to take control of your health, by focusing on your habits in six areas. While change itself can be challenging, the principles of Lifestyle Medicine are quite clear and simple to adopt.
Lifestyle Medicine can lower your risk of chronic diseases like high blood pressure, heart disease, Type 2 Diabetes, and even cancer. In many cases, it's possible to reverse chronic disease using these same principles. Yes, that's right: Lifestyle Medicine can lower your risk of and even reverse chronic disease. It's like the silver bullet we've been looking for!
The best part? Lifestyle Medicine is empowering and costs nothing. It puts you in the driver's seat of your health. While it's highly recommended that you check with your doctor before making lifestyle changes around diet and exercise, you don't need her to write you a prescription to get started with Lifestyle Medicine.
Today I'm excited to share with you the six powerful pillars of Lifestyle Medicine that, when implemented together, are greater than the sum of its parts. Lifestyle Medicine doesn't promote health alone; it can help us live in a state of wellness. Just imagine what your life could be like if your body, mind, and soul were thriving.
While the practice of Lifestyle Medicine is still emerging, in a way it is already familiar to us. Ever heard these old fashioned wellness wisdom nuggets?  
You are what you eat
Early to bed, early to rise makes a woman healthy (wealthy and wise)
Never go to bed angry
Don't sweat the small stuff
So Lifestyle Medicine isn't really a new way of achieving health and wellness. It's more of a return to how we used to live our lives, prior to the almost nonstop pace of our modern information age, where most of us have too much responsibility and stress and not enough time or sleep.
Before we explore the fundamentals of Lifestyle Medicine and how you can use it to get or stay healthy, let's talk about why we need this "new" approach.
Why We Need Lifestyle Medicine
In 2020, Americans are sicker than ever before and dying younger than we should be. As the average lifespan and "healthspan" goes down, the cost of health care goes up. Something isn't working.
As consumers of the conventional health care system, we know that primary care physicians typically treat symptoms of chronic disease with prescription drugs. We are fortunate to have these medicines available to us, and in fact, Lifestyle Medicine physicians use prescription drugs to close any gaps that Lifestyle Medicine interventions cannot fill.
But doesn't it make way more sense to prevent chronic illness from occurring in the first place? Yet the only truly preventive care in conventional medicine is vaccinations. Even health screenings detect disease already present.
The great news is that (according to a World Health Organization 2005 report) 80% of heart disease, stroke, and type 2 diabetes and 40% of cancer could be prevented with dietary and lifestyle changes. Given, that (according to the American College of Lifestyle Medicine) the treatment of chronic disease accounts for 85% of health care spending, the potential to reduce the cost of health care to organizations and individuals is promising.
Sound good? Let's jump into the details of Lifestyle Medicine!
6 Ways to Take Control of Your Health
Lifestyle Medicine guides us to eat, move, think, and live in a way that optimizes our well-being. Best-self here you come!
To prevent, treat, and, even reverse chronic disease and select autoimmune conditions, focus on your habits in the following six areas.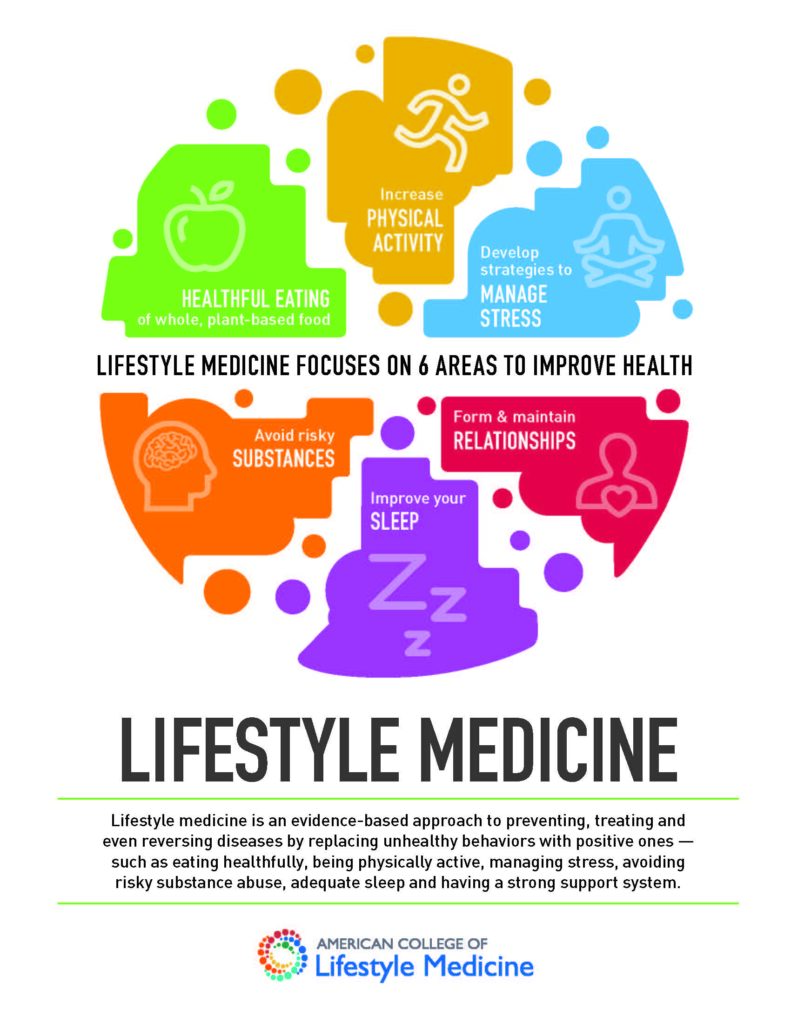 Nutrition – Eat more plant-based foods.
Vegetables, fruit, beans/legumes, whole grains, and nuts/seeds contain health-promoting fiber and phytonutrients (compounds that reduce "wear-and-tear" and chronic inflammation) that animal products do not. As we eat more filling plant foods, meat, dairy, and eggs naturally become an accent to meals rather than a centerpiece.
Exercise – Add more movement to your day.
22 minutes of daily physical activity adds up to the recommended 150 minutes per week. In addition to moderate exercise, activities of daily living can elevate heart rate. Physical activity positively affects mood, energy, sleep, and brain and heart health.
Stress – Master challenges with resilience.
I don't have to explain how stress makes us feel heavy and ungrounded at the same time. By developing strategies to stay calm and present it becomes easier to face whatever comes our way with perspective, creativity, patience, and self-compassion. When we effectively manage stress we improve both our mental and physical health.
Relationships – Find your tribe.
To thrive, humans need connection with other humans for love and support. Having a support network we can count on and share a common purpose with gives us comfort and confidence.
Sleep – Recharge and restore.
Most adults need 7-8 hours of sleep to function well. When our bodies and minds are rested we experience more energy and mental clarity and less stress. Sleep also impacts our immune system and brain health.
Substances – Quit smoking and limit alcohol.
Giving up cigarettes can be extremely hard but there's no doubt that doing so will greatly reduce the risk of lung and cardiovascular disease. Moderate alcohol intake (one drink per day for women, two for men) can be part of a healthy lifestyle. (If you don't drink, that's even better.) You don't have to give up your glass of wine. Just keep in mind that excessive alcohol use has negative short and long-term effects including disordered sleep and risk of Alzheimer's disease.
So that's Lifestyle Medicine! Just a reminder that 80% of heart disease, stroke, and type 2 diabetes, and 40% of cancer could be prevented with dietary and lifestyle changes!
Lifestyle Medicine and Health Coaching
As a Lifestyle Medicine Coach, I help women realize their vision of wellness by helping them build healthy habits in the six areas of Lifestyle Medicine. If you're intrigued by the possibility of using Lifestyle Medicine to improve your health and well-being, I hope you'll consider reaching out to schedule a conversation with me and find out if my 12-week coaching program is a good fit for you.
Another great option is to check to see if your health plan offers health coaching services. In 2016, the American Medical Association recommended that primary care practices have a health coach on staff to support patients with behavior change. It is expected that health coaching will become a reimbursable procedure eventually and as a result, will become more accessible.
If you're feeling inspired, you can get started on your own by setting a goal in one of the Lifestyle Medicine areas! To learn how to set SMART goals that will support your success, check out my post on goal setting and download my free goal setting worksheet at the top of my home page. (It takes a few seconds for the form to drop down.)
Now that you know about the best-kept secret in health care, I'd love for you to share in the comments below what excites you most about Lifestyle Medicine!