Happy Heart Month, friends! In 1964, President Lyndon Johnson first proclaimed February as Heart Month in the U.S. to help bring awareness to heart disease prevention.
So today I'm talking about heart health, specifically healthy habits you can implement to support a healthy heart.
First, a reminder: As a health and wellness coach I help my clients build healthy habits that last. I don't diagnose or prescribe treatments for disease. Please remember to check with your healthcare provider before changing your diet or exercise routine.
Heart Disease by the Numbers
Let's get the bad news out of the way:
Heart disease (aka cardiovascular disease) continues to be the number one cause of death in the U.S. and worldwide for both women and men. Almost half of adults in the U.S. show signs of cardiovascular disease (CVD).
One in three women in the U.S. will die from some form of heart disease, most likely a heart attack or stroke.
Now, the good news:
Awareness of heart disease is increasing. Between 1997 and 2012, the number of women recognizing that heart disease is the number one cause of death nearly doubled (30% to 56%). (The data shows that there is work to be done to engage women of color, Black women, and younger women.)
More good news: 80% of heart attacks and strokes can be prevented through lifestyle changes, even if you already show signs of heart disease.
We can't control our family or health history, race, age, or gender (women experience CVD differently than men) but we can control our behavior.
Sound familiar?!
Lifestyle Matters
If you've visited my blog before you've probably heard me talk about how to use Lifestyle Medicine as a tool to achieve ideal health and wellness, in part by preventing chronic illness, like heart disease.
The American Heart Association's Life's Simple 7 wheel of lifestyle behaviors to prevent heart disease is very similar to the Lifestyle Medicine wheel, with some specific guidance on preventing or reversing heart disease.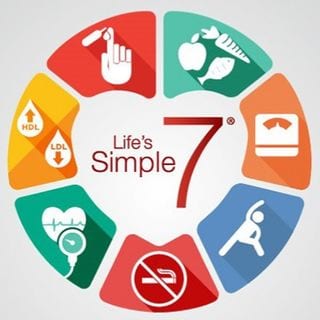 Bottom line: Our daily habits, especially around how we move and nourish our bodies are fundamental to our heart and overall health now and as we age.
By living a healthy lifestyle we not only lower our chances of dying from cardiovascular disease, but we also increase our chances of living without the burden of the disease, to begin with.
Heart Disease Prevention
Preventing atherosclerosis, the hardening and narrowing of the arteries due to a build-up of sludgy, sticky "plaque" that restricts blood flow is how to prevent (and in many cases reverse) heart disease.
To prevent atherosclerosis, it's important to control…
We can do all of the above by building healthy habits. Here are eight habits (mostly nutrition tips) to consider adding to your routine!
8 Heart-Healthy Habits
1. Find enjoyable ways to elevate your heart rate.
Aerobic activity increases nitric oxide (NO) production in the lining of the arteries which causes them to dilate, increasing blood flow. (Diet can also aid the production of NO.) Exercise also helps maintain healthy weight and cholesterol levels. (For some tips on getting started with exercise, check out my blog post.)
2. Focus on whole plant foods.
Ideally, the vast majority of the calories you consume come from fruits, vegetables, and starches (potatoes, beans/legumes, whole grains, etc.). These foods are loaded with nutrition, low in calories, and support healthy body weight by making you feel full and satisfied with fewer calories. As I've written about before, the phytochemicals in plants perform many beneficial functions in the body including protecting us from heart disease.
3. Use animal foods as an accent to meals.
Meat, fish, dairy, and eggs contain dietary cholesterol so especially if your LDL cholesterol is already outside the ideal range it's best to limit those foods. It's best to avoid processed meats altogether for their high sodium content. (Not only that but the World Health Organization has classified processed meat as carcinogenic. Yikes!)
4. Eat more fiber.
If you follow tip #2 you are covered on this tip! Fiber, found only in plant foods, helps maintain healthy weight and cholesterol levels. Choose fruits, vegetables, beans/legumes, nuts/seeds (sparingly), and whole grains over white bread, pasta, crackers, rice, etc. which are nearly stripped of fiber when processed.
5. Focus on healthy fats.
Increase heart-healthy Omega 3 fats found in plant sources (or cold-water fish) and limit Omega 6 and saturated fats (including coconut oil) which can increase inflammation and raise LDL cholesterol. Processed foods containing vegetable oils have caused Omega 6 fats in the Standard American Diet to skyrocket.
6. Read food labels.
You can ensure you're getting lots of fiber and healthy fats in your diet by reading packaged food labels. Aim for foods with under ten ingredients and pay attention to the Nutrition Facts. Foods with five or more grams of fiber per serving are ideal. Avoid foods with hydrogenated or partially hydrogenated oils. To keep calories and the risk of type 2 diabetes low, it's also good to check labels for added sugar. A recent study found that sugar is found in 68% of packaged foods.
7. Use spices and fresh herbs to season food.
Sodium can raise blood pressure. As an experiment, try leaving the salt out of recipes and seasoning to taste at the end. Before you season with salt, try using spices and fresh herbs first. When eating prepared foods or at restaurants, taste your food before adding salt. If you were raised on salty food it can take time to readjust your taste buds. You can gradually reduce the salt.
8. Know and monitor key biometrics.
If you don't know your blood pressure, cholesterol, or fasting blood sugar levels find out so you know where your heart health stands. Workplace wellness fairs, free clinics, pharmacies, and home test kits are options outside of a doctor's office. I recommend asking your doctor to check your Lipoprotein(a) level. Lp(a) is a genetic component of cholesterol that is high in 20% of people from an early age and increases the risk of heart disease by four times! Cardiologist Dr. Joel Kahn calls high Lp(a) a "silent killer" and wrote a book about it.
Finally, I would be negligent not to mention how critical quitting smoking is to heart health. Smoking makes the heart work harder to get oxygen to the body, raising blood pressure. And the chemicals in most cigarettes contribute to the build-up of plaque in the arteries.
Sharing is Caring
The main takeaway for today is that heart disease is far from a given, no matter how prevalent it is in our society or your family. It's important to remember that in addition to genetics, we often inherit lifestyle from our parents.
We're fortunate to know a lot more about health and nutrition science than our parents' generation did. If appropriate, you can lovingly share what you've learned to help them manage their heart disease.
It's never too late (up to a point) to change our lifestyle and it doesn't take long to see improvement after implementing healthy habits like the ones I've discussed.
The first Friday in February is National Wear Red Day to bring awareness to women and cardiovascular disease. So wear your favorite red wardrobe item on February 5th and tell everyone you see what you've learned about women's heart health!
For more information about women and heart disease, I highly recommend checking out the American Heart Association's Go Red for Women website.
Also, please share this post with all the women in your life! And if you have questions or a tip to share please contact me or drop leave a comment below.